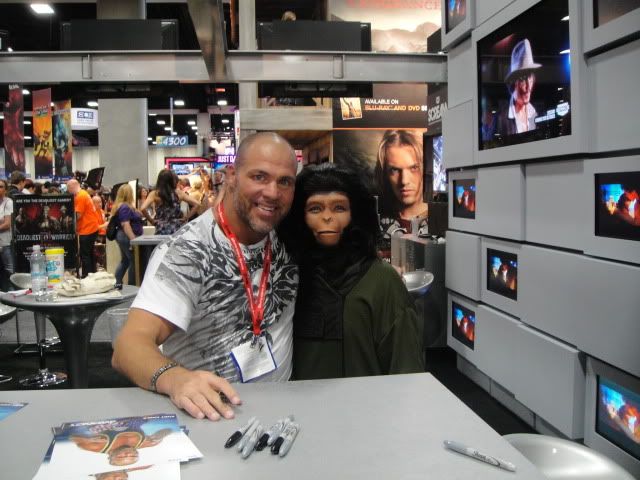 General Urko mask to the right. Apemania economy gorilla mask to the left. Planet of the Apes deluxe pullover for child. Apemania foam latex mask. Everything else I put together:
T'Pring: For 2011 Star Trek Convention, Romulan Commander . Holy crap! That's so SHORT! As the day draws closer to the convention and the fabrics have not yet been delivered, I am getting nervous. Yarn came two days ago and I have been crocheting feverishly. I believe I have enough red fabric but the silver one I ordered is still enroute. Perhaps today (Wednesday) it will be delivered. Three days to countdown.
The Romulan fabric grows ever so slowly, and I have to order more yarn. Crap.
By
apecityoutfitter
at 2011-03-13 Halloween 2009, Apemania Zira foam latex prosthetics
1:1 scale foam latex mask of Zira
By
apecityoutfitter
at 2010-08-29 1:1 scale foam latex mask of Urko
Deluxe foam latex pullover mask of Urko: